Recent Fine Living Products
December 17, 2007 EST | Holiday
The Snowflake tree features natural looking twigs and is lightly dusted with snow. Complete with natural looking pinecones, this tree looks fresh out of the woods. It comes prelit with vibrant clear lights and is available in a number of sizes.
Features:
Prelit
Folding metal base
Evergreen color dusted with fake snow
Comes with artificial cones Tree [More...]
December 17, 2007 EST | Holiday
Ideal for lining city streets, decorating shopping areas, and lighting trees these seasonal holiday lighting motifs from American Lighting add depth and variety to ensure a unique display of holiday lights. Made with the same high quality construction as American Lightings entire line of motifs, these holiday lights come in a variety of sizes and styles. Add in chasing controllers or cross-faders with multiple motifs to animate your display and provide for an unmatched look and feel.
[More...]
December 16, 2007 EST | Holiday
Animated Ice Skating Snowman is no longer available. You might be interested in the following Ice Skating Snowman related products:
Add some fun to the holiday season with this holiday lighting display. Watch as the Animated Ice Skating Snowman skates across the pond as he wears his Santa hat . The beautiful multi colored holographic base is outlined with dazzling white lights. Specifications: * UL listed lights * Solid Metal Frame * Bulbs: 175 * Dimensions: 4.0 H Weight: 23 lbs. Order today!
Small Parcel: Ships within 48 hours
Related product:
Outdoor Lighted Mickey with Snowman [More...]
December 16, 2007 EST | Holiday
Wooden Candy Cane & Toy Soldier full size patterns are no longer available. You might be interested in other wooden candy cane and toy soldier related products:
Your choice of Holiday Project Plans! Get two holiday project plans from Wood Magazine at a great low price! Each package contains two full-size patterns , cutting diagrams and easy-to-follow instructions. Order today!
December 15, 2007 EST | Holiday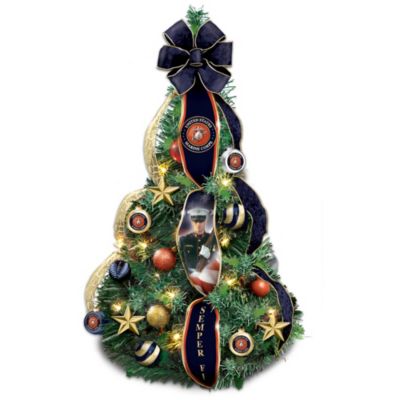 The "USMC Teddy Bear illuminated artificial tabletop Christmas tree" is no longer available. You might be interested in checking out USMC Tradition Of Honor Pull-Up Christmas Tree: Pre-Lit And Pre-Decorated as an alternative, or checking out other tabletop Christmas trees below
There's no better time than the holidays to reflect on what we treasure most, so join in this shimmering salute to the "honor, courage, and commitment" of our U.S. Marine Corps. Decorated with a host of "beary" loyal Marines in detailed uniforms, American flags, and Marine logo ornaments, this first-ever, illuminated Christmas tree figurine will fill your home with glowing patriotic spirit!
This exclusive Hamilton Collection collectible Christmas tree figurine is sure to become a treasured holiday heirloom.
[More...]
December 15, 2007 EST | Holiday
This beautiful Christmas tree is no longer available. You may want to check out similar tree like Sandra Kuck Heavenly Holiday Illuminated Rotating Tabletop Christmas Tree, or other tabletop Christmas trees below
Angel Art Christmas Tree Inspires, Delights with Music, Motion, and Light. First Ever Artist Dona Gelsinger Christmas Tree! - A pint-sized heavenly host makes your holidays more special with the talents of Dona Gelsinger, beloved for her tender portrayals of angel children. Now her artistic vision has inspired her very first porcelain tabletop Christmas tree to illuminate and bless your holidays with motion, lights, and an uplifting holiday melody!Sparkling with over 100 faceted jewels, "Heaven's Holiday Helpers" is a handcrafted Heirloom Porcelain(R) angel art Christmas tree masterpiece that lights up with a flick of a switch, then rotates as it plays "Angels We Have Heard On High." Given worldwide interest in Ms. Gelsinger's angel art, demand for this porcelain tabletop Christmas tree is expected to be intense. Light up your holidays with this Bradford Editions exclusive.
[More...]
December 15, 2007 EST | Holiday

FIRST Elvis Presley(R) Collectible Christmas Tree! Porcelain Tabletop Christmas Tree for an Elvis Christmas Home Decor! - No one loved Christmas more than Elvis Presley(R). Now, his generous holiday spirit and warm, sparkling charm is lovingly evoked in this exclusive, first-ever illuminated collectible porcelain tabletop Elvis Presley Christmas tree! Aglow with over 100 sparkling faceted gems and gleaming 22K gold, this distinctive, hand-crafted Elvis Christmas collectible rotates as it plays the nostalgic melody of "Blue Christmas."Soulful portraits of Elvis by acclaimed celebrity artist Nate Giorgio, adorn the celestial blue boughs. Golden light shines from ten star-shaped cutouts. And look at what Elvis brought you under the tree! A guitar, teddy bear, gold records, a pink Cadillac(R) and blue suede shoes! No Elvis fan would want to miss this exclusive, limited-edition Elvis collectible first exclusively from Bradford Editions! [More...]
December 15, 2007 EST |
The "Lighted Train Car Holiday Display" is no longer available. You might be interested in checking out other Christmas lighted train car below
This Train Car Holiday Display shows Santa and his toys as they start their night-before-Christmas journey. Made by hand in Oklahoma, each display is designed by a professional artist. When plugged in, the wheels rotate and the track flows beneath and between each train car.Animation speed is adjustable. Handcrafted from solid steel. Frames are powdercoated for lasting protection against the elements. All lighting is pre-attached and commercial-grade. UL-listed for safe outdoor use. Folds for easy storage between seasons. Kit includes everything needed to display in yard or to hang - needs only an extension cord for power. Learn more about our holiday light displays. [More...]
December 15, 2007 EST | Holiday
The original "Animated Three-Car Train Set for Christmas" is no longer available. Please check out the following alternative Christmas 3-car train sets below, great gift idea for the holiday
Stocked with toys and supplies, this Animated Three-car Holiday Train Set brings good cheer to your outdoor holiday decor. This estate-sized outdoor Christmas display features colorful lighting and animated wheels. When plugged in, the train "puffs" smoke as it "chugs" along.Solid steel frames with powdercoated exterior to protect against the elements. Solid butt welds, not brittle spot welds. UL-listed lights on commercial-grade Bethlehem strings are the most consistent, highest-quality lights on the market. Illustrated installation and product care instructions are included with outdoor holiday decor. Commercial-grade, weatherproof animation controllers. Folds completely flat for quick and easy storage between seasons using a patented folding system. Store out of sun in off-season to avoid fading. If used in a coastal area, hose off with fresh water prior to storing.
December 04, 2007 EST | Jewelry
The "Dear Daughter Letter of Love Locket Necklace" is no longer available. You might be interested in checking out other Letter of Love locket necklaces below
Dear Mom Love Letter Engraved Locket Necklace
Dear Sister Letter Of Love Sterling Silver And Diamond Engraved Locket Necklace
Dear Granddaughter Letter Of Love Sterling Silver Locket Necklace Gift
Remind your daughter of her place in your heart this Christmas - deliver a special holiday message of love with this engraved daughter locket necklace, exclusively from The Bradford Exchange. Uniquely handcrafted in the shape of a letter, the locket opens to a heartfelt message engraved with the words, "I was never so blessed as the day you were born. I love you!" for the perfect mother-daughter Christmas gift.
Handcrafted in shimmering solid sterling silver, this special Christmas jewelry gift for daughters sparkles with 2 hand-set faceted diamonds and is richly accented with 2 gleaming 24K gold-plated hearts. Send a special delivery to your "first-class" daughter just in time for the holidays and imagine her surprise when she finds your message inside. Strong demand is expected for this unique Christmas jewelry gift idea for daughters.
Suitable for ages 7 and over.
[More...]
December 03, 2007 EST | Auctions & Collectibles , Holiday
As Santa and his reindeer joyously fly into the Christmas night, the Wonderland Express slowly chugs its way round and round the peaceful little village nestled amongst snow-kissed evergreen boughs. Now, you can capture the joy of this wondrous night in your home with exclusive Thomas Kinkade Christmas home decor - a Collectibles Market First! This incredible Thomas Kinkade musical animated tabletop Christmas tree even features moving trains with four levels of rotating movement - including Santa and his sleigh! Watch as the train "climbs" ever higher up the tree and notice 12 brilliantly illuminated buildings and over 2 dozen handcrafted figures in this special Christmas home decoration. Order this fantastic piece of Christmas home decor today, one of the best gift ideas for the loved ones on your list! [More...]
May 20, 2007 EST | Auctions & Collectibles , Jewelry
May 20, 2007 EST | Auctions & Collectibles
[
More...
]
May 20, 2007 EST | Auctions & Collectibles , Fine Arts
[
More...
]
May 05, 2007 EST | Outdoor Living
"Hydro Spa Hot Tub Spa Package" is no longer available. You might be interested in checking out other hot tubs below
This generously proportioned hot tub accommodates a crowd in total comfort. With seating for 5-6 adults, you and your guests can luxuriate in the Hydro Spa 40 hydrotherapy jets. Two high-flow 220 GMP pumps keep water circulating, while the included Ultra-Pure Ozonator System sanitizes the water without the use of harsh chemicals. Encased in a maintenance-free cabinet, this beautiful hot tub makes a worthy centerpiece to your backyard. Order today!
[More...]
March 26, 2007 EST | Outdoor Living
The "Better Homes & Gardens Mika Ridge 5-Piece Dining Set" is no longer available. You might be interested in checking out other 5-piece outdoor dining sets below
Comfort and style come together beautifully in this Better Homes & Gardens Mika Ridge Swivel Rocker 5-Piece Dining Set. With a set this stylish and comfortable, your family and friends will want to spend every moment gathered around it for meals, drinks and conversation.
Better Homes & Gardens® Mika Ridge 5-Piece Swivel Rocker Dining Set
* Pedestal table
* Table Top: 48 inch diameter round glass top in Smoked Tea
* Table height: 27.5 inches from ground to table top
* 4 Swivel rockers with all-weather olefin-covered cushions
* Swivel Rocker dimensions: 30.55" L x 24.01" W x 34.88" H
* Welded construction
* Mika Ridge Umbrella sold separately
* Wal-Mart stores/On-line [More...]
March 26, 2007 EST | Outdoor Living
The "Delahey 6-Piece Wood Patio Dining Set" is no longer available. You might be interested in checking out other patio dining sets below
Come one, come all. With four generously sized chairs, a charming bench and an expandable table, the Delahey 6-Piece Wooden Patio Set offers room for everyone. Made of solid hardwood and treated with a weather-resistant oil finish, this collection will stand the test of time. An amazing value for under $300.
Delahey 6-Piece Wood Patio Furniture Set:


Includes four chairs, one bench and expandable table


Made from solid hardwood


Oil finish protects and preserves the wood


20-inch retractable leaf included with table


Assembly required


Umbrella and base sold separately


Coordinates with all furniture in the Delahey collection


[
More...
]
March 12, 2007 EST | Auctions & Collectibles , Fine Arts , Interior Design
Now, for the first time ever, the magnificent story of the life of Christ comes alive in a 3-dimensional masterpiece inspired by the art of The Painter of Light™! This extraordinary collectible Thomas Kinkade Faith Mountain invites you to witness the historic events of Holy Week, presented in an illuminated treasure of handcrafted religious Christian home decor!
Follow Christ as He rides into Jerusalem, see His betrayal and trial, and witness his death and triumphant Resurrection - the entire story unfolds in thirteen meticulously detailed and dramatic scenes with 45 sculpted figures! This amazing story of Jesus Christ collectible is available ONLY from Hawthorne Village. Strong demand for this stunning inspirational tabletop home decoration is expected, so do not delay - order now! [More...]
December 20, 2006 EST | Auctions & Collectibles
The love shared by mothers and daughters joins their hearts together forever. Now, celebrate that eternal bond with this collectible musical angel figurine, available exclusively from Collectibles Today in a strictly limited edition of only 2,006, this ivory porcelain angel figurine is a truly eloquent tribute to mother-daughter love.
Hand-sculpted and crafted of Heirloom Porcelain®, this lovely collectible musical angel figurine is perfect for the holidays or any day, and a perfect complement to any decor. The matte and gloss finishes are highlighted by 22K gold accents, a touching inscription, and the melody of The Wind Beneath My Wings. An important addition to your angel figurine collection or a breathtaking mother to daughter gift! Don't miss it - Order Now! [More...]
December 20, 2006 EST | Auctions & Collectibles , Holiday
For the first time ever, the story of the Nativity comes vividly to life in a three-dimensional, fully sculpted illuminated Nativity tree inspired by the artistry of Thomas Kinkade.
Follow the story of Jesus's birth step-by-step with the Thomas Kinkade "Glory To The Newborn King" Nativity scene Christmas tree decoration. Children and adults alike will thrill to the over 40 meticulously sculpted and hand-painted characters. Standing 16" high, this illuminated tabletop decorated Christmas tree lights up at the touch of a switch and also plays Silent Night. Given the time-intensive handcrafting involved in this Hawthorne Village exclusive, demand could rapidly exceed availability. Be one of the first to get this unique Christmas decoration and gift idea. order yours today! [More...]
November 28, 2006 EST | Holiday
Holographic Santa Train is no longer available. You might be interested in other similar products of Santa with train:
All aboard for holiday fun! Our outdoor lighting Santa train will add sparkle to your holiday decorations.
Imagine the Santa Train in your front yard! Gaily lit with 550 multicolor lights, this dazzling holographic display is made of sturdy PVC and metal construction. The rust-resistant wire frame stakes into the ground. The train features Santa as engineer, pulling three cars filled with presents, a teddy bear, snowman and a Christmas tree. UL listed for outdoor use. 6' lead cord. Some assembly required. 144" W x 36"H. 8 lbs.
November 28, 2006 EST | Home Improvement
Add warmth and charm to any room with the Dimplex Compact Electric Stove. With the flick of a switch it provides realistic flame effects as it spreads heat. Can also operate in flame-only mode. Order today!
The ambiance of a wood flame without the fuss or mess


5000 Btu's, 1500 Watts of heat


Flame runs with or without heat for year round enjoyment


Heats up to a 200 square foot room


Costs pennies a day when operated in flame only mode


Found at Wal-mart Stores and on-line
November 28, 2006 EST | Home Improvement
The "Comfort Glow Electric Fireplace" is no longer available. Please check out other alternative electric fireplaces below

Dimplex DFI2309 Electric Fireplace Insert
Bionaire BFH5000-UM Electric Fireplace Heater with Remote Control
Dimplex DFI2310 Electric Fireplace Deluxe 23-Inch Insert, Black
Enjoy the ambience of real fireplace without the fireplace mess! This beautiful heater looks just like an actual fireplace but is so much easier to use. It plugs into a standard outlet and supplies 1,500 watts (up to 5,000 BTU's) of heat output. The handsome white mantel and base can be placed in any room of the home to create a warm, intimate setting.
Includes white mantel and base


Remote control allows you to make adjustments to flame speed, flame and
ember lighting and or heat output


Customize the look and feel with the touch of a button


November 20, 2006 EST | Auctions & Collectibles
A baby's world is filled with peace and contentment, especially when she is being tenderly held and protected by those who love her! Now, you can cuddle one of the tiniest miracles ever in your own hands in a captivating collectible lifelike baby girl doll, the first So Truly Real® doll ever created in a truly amazing 10-inch size!
You're sure to be awestruck by the wonder of this realistic newborn baby girl doll, available exclusively from Ashton-Drake. Renowned Master Doll Artist Linda Webb's brilliant sculpt has been exactingly reproduced in a collectible doll that has RealTouch™ vinyl skin, micro-rooted hair, wispy eyelashes and hand-painted fingernails and toenails. Heavy demand is expected, and you won't want to miss the chance to cradle this cutie. Order now! [More...]
November 18, 2006 EST | Interior Design
The chimney-free, portable Liberty Ventless Firplace goes wherever you want it in your home. This portable ventless fireplace can bring spirit, ambiance, and romance to any room. This piece is a decoration must have. The ventless fireplace can be used in your house, office, condo, or apartment. Allow yourself and others to enjoy timeless and relaxing moments year round. There's no more hassle of having to go outside and chop wood. The Liberty Ventless Fireplace runs on Real Flame gel fuel. The gel fuel is completely environment friendly. Plus, the gel exceeds US Standards for carbon monoxide emissions with in private homes. The gel fuel containers are tiny and easy to store. [More...]
November 18, 2006 EST | Holiday
The "Snow Blowing Dome Santa with Lamppost" is no longer available. You might be interested in checking out other related merchandise such as Christmas Ornament- 4 Santa with Scene Holding Lamp Post, or Night Light - Santa and Snowman at the Lamp Post with Flicker Light
This charming holiday decoration depicts Old Saint Nick as he continues his journey on the most joyous of nights. Lighted lamp post illuminates his path though the fluttering snow to guide him along. A perfect addition to your holiday decor!
Visit Amazon.com for many other great gift ideas today!
November 18, 2006 EST | Holiday
Since you won't see the clear base at night, it'll look like Santa, his sleigh and two reindeer are literally flying through the air!
Flying Sleigh & Reindeer are easy to set-up: just flick a switch to self-inflate this high-flying show-stopper! Besides being huge, it's also illuminated from within, for a nighttime front-yard display that will be the envy of your neighbors! Includes integrated blower motor, tethers and ground stakes. 7' lead. 95"x48"x105" tall. UL listed for outdoor use. No express delivery.
Check out all Flying Reindeer & Sleigh related merchandise:
[More...]
November 18, 2006 EST | Holiday
The "Set of 3 Snowman Head Waterglobe Ornaments" are no longer available. You might be interested in checking out other snowman ornaments below
Add a touch of elegance to your holiday season with these beautiful snowman head waterglobe ornaments by International Silver. These delicately crafted ornaments are sure to complement any holiday dcor. Watch the eyes of someone you love light up when they open these stunning ornaments. Perfect for anyone on your list these, ornaments are a must have. Features: * Material: pewter and glass * 3 inches tall * Limited warranty.
November 18, 2006 EST | Holiday
The original "Holographic Train Car" is no longer available. You might be interested in checking out other holographic train car below
Holographic Lighted Train Cars have wheels that look like they're moving!
Holographic background makes the colorful, pre-strung, mini-lights "pop" on this 400-light locomotive, 260-light gift-box car, and 320-light caboose! Plus, the wheels (and the locomotive "smoke") have lights that turn on and off in sequence, to give them a look of "movement"; control lets you adjust "movement" speed. Each has easel stand with spiral stake, 72" lead wire, and measures 48" wide. UL listed for outdoors. No express delivery. Please specify locomotive, gift-box car, or caboose. [More...]
October 25, 2006 EST | Jewelry

Only the most skilled carvers in China work with cinnabar lacquer. In creating these intricate designs, wooden forms are dipped in layer upon layer of lacquer and are allowed to dry. The artisans then hand-carve the designs. Here a carved dragon, an auspicious symbol of protection, is suspended from a double strand of peridot, a stone said to bring its wearer good fortune. Handmade in China. Pendant is 1 1/2"L; necklace is 17 1/2"L.
October 25, 2006 EST | Jewelry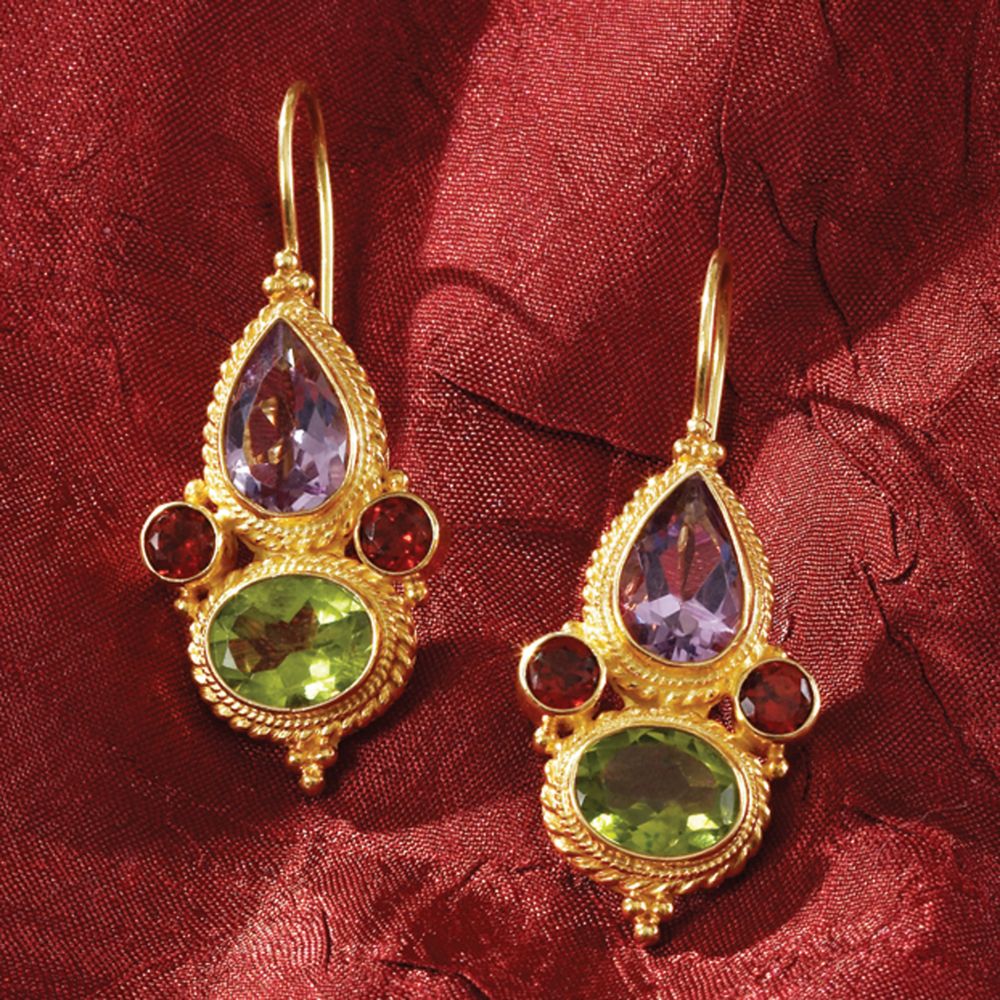 Venetian explorer and trader Marco Polo was one of the first Westerners to travel the Silk Road, bringing European goods to Asia and returning with, among other things, precious gems. Here, the journey is embodied in garnet, peridot, amethyst, and granulated gold vermeil. Renaissance designer Benvenuto Cellini's work for the Medici family is adapted by Chinese jewelers using faceted gems mined in India—true fusion of three cultures. Read more about Marco Polo's journey in Mike Edwards' 2001 series of articles for National Geographic magazine. 3/4''W x 1 1/2''L. Order today at National Geographic Online Store!
October 16, 2006 EST | Fine Watches
Far from their home shores, in and over the seven seas, the brave men and women of the U.S. Navy stand ready to serve and defend. With a centuries-old tradition of courage, they selflessly commit their all in the name of freedom. Now, loyalty can be expressed in a timely way with a U.S. Navy watch with precision quartz movement, date window and engraved on the reverse with the "Valor and Glory" motto.
Salute the heroes of the sea and sky with this U.S. Navy watch, a fine jewelry exclusive from Bradford Exchange. This handcrafted stainless steel timepiece accented with 24K gold-plating and featuring the eagle, flag and crossed-anchor emblem makes a memorable keepsake or ideal U.S. Navy gift. Patriotic demand is expected, and you won't want to miss out. Order your own Stainless Steel U.S. Navy Watch today! [More...]
October 16, 2006 EST | Auctions & Collectibles
It's a sweet miracle you have to see to believe! These lifelike baby dolls are the very FIRST So Truly Real® collectible vinyl dolls that "breathe"! Wait until you hold the first of these adorable triplets in your arms! Created by master doll artist Andrea Arcello, tiny "Ashley's" gentle breathing - so peaceful to watch, so wondrous to feel - tells you that she's truly content to be loved by you!
Soon "Ashley's" two sisters will arrive, each handcrafted of Ashton-Drake's soft RealTouch™ vinyl skin, with hand-applied hair and hand-painted fingernails and toenails. All three breathing baby dolls will melt your heart with their sweet newborn features. Pick them up - they feel just like real babies in your arms! Truly, every breath is a little blessing! Strong demand is expected for these "breathing" baby dolls. Order now! [More...]