New Products & Information
December 07, 2006 EST | Toys
A bouncer fit for little kings and queens. For a royal good time at parties or for every day use, this Castle bouncer is a bouncer and ball game in one! It features 24 Fun Ballz that kids can toss in the top of the turrets or push them through the holes in the castle wall. The cushiony double mattress floor gives kids extra bounce for safe, springy fun. Order today for a Christmas gift!


Approximate inflated size: 85" X 76" X 45"


Includes 24 Fun Ballz


High sidewalls for safer play


Cushiony double mattress floor for extra bounce


Try to toss the fun ballz in the top of the turrets or push them through the holes in the castle wall


Removable soft swords for protecting the castle


Maximum 2 children


120 pound maximum weight limit


Pump not included


Repair kit included


December 07, 2006 EST | Toys
Bob Mackie's designs have graced some of the most famous stars in the entertainment industry as well as the most glamorous women throughout the world. 2006 marks Mr. Mackie's second Special Edition Holiday Barbie doll, sure to be treasured for years to come: she is a holiday fashion fantasy come true in a stunningly sophisticated holiday ensemble. She wears a black ball gown with dramatic white faux fur at the shoulders and hem, embellished with silver and gold designs and festive multicolored stars. On her head she wears a black fabric crown with silver and gold accents and a shining star. Matching earrings with brightly colored baubles and stars complete this gorgeous holiday costume. Order today! [More...]
December 07, 2006 EST | Toys
Bring your little one home to the Twin Time Doll House for baby time fun with the whole family. The doll house opens up to twice its size, with eight rooms full of space — includes a mom, dad, cat 10 additional furniture and accessory pieces. Plus, the garage can also store accessories.
Bonus Pack Includes:


Bed


Soft pillow


Comforter


Boom box


TV


TV stand


Girl figure


[
More...
]
December 07, 2006 EST | Toys
Capture, save and share your memories using Vcam Now 2.0, the digital video camera for kids. Store up to 480 digital photos or seven minutes of video, then show 'em on your TV or use the included software to create your own Personal Video Discs set to music. Click here to order now
Vcam Now Features:


32MB of built-in memory stores up to 480 digital photos or seven minutes of video


Get a closer view with the 4x digital zoom


Self-timer lets you take pictures of yourself or join your friends


View the 1.5-inch color flip-out screen at an angle that's comfortable for you


Watch footage on-screen or use the included USB or AV cables to view them on your TV or PC


Connect to your PC for use as a web cam


Use VideoNow Media Wizard software to create your own Personal Video Discs


Color may vary
[
More...
]
December 07, 2006 EST | Toys
Amazing Amanda Doll, Blonde is no longer available. You might be interested in other amazing dolls
Amazing Amanda is a doll like no other. In fact, she's the closest thing to a real child that a young "pretend mommy" can have. By responding to voices, recognizing objects and showing emotions with realistic facial expressions, Amazing Amanda establishes an interactive mother-daughter bond that is unparalleled among children's toys.


Advanced voice recognition, sensory response and animatronics technologies enable lifelike interaction


Amazing Amanda learns to recognize her "mommy's" voice


She also recognizes objects such as her outfits, toothbrush, sippy cup, various foods and her potty


She expresses real emotions, such as smiling when happy or pouting when told 'no'


She engages in two-way communication with realistic facial expressions and toddler-speak


She can go "potty" and can even be used to promote potty training


She keeps track of date and time, and offers reminders of upcoming holidays


She has an internal clock which can be used as a lovable alarm clock, and may help establish a normal sleeping and waking schedule for your child


Comes with accessories, pretend food, outfits and more


She stands 18 inches tall


Requires four "C" batteries (not included)


Amazing Amanda is recommended for children ages 4 and up
November 30, 2006 EST | Toys
Have a ball! Roll, spin, tumble and bounce around with the Mega Giga Ball, an enormous inflatable ball that allows kids to climb inside and roll around for hours in a safe and cushioned environment. Perfect for the playroom or backyard, Giga Balls are built safe and tough. Simply blow it up, and let your imagination run wild as you roll around, play inside it, or make up your own fun games. The Mega Giga Ball is designed to hold up to 150 pounds. Adult supervision recommended.
Made from sturdy heavy-gauge vinyl so it's tough enough for kids' enthusiastic play, indoors or out


Unique honeycomb design is cushiony, with inner chambers for kids to get inside


See-through windows


Holds up to 150 lbs


Inflated size is 49" diameter


Ages 4 and up (adult supervision recommended)
November 22, 2006 EST | Toys
"T.M.X." Elmo will tickle America's funny bone with three interactive tickle spots on his chin, tummy and toe. When kids tickle Elmo once on any of the tickle spots, he starts to laugh and slap his leg twice, then falls down into a sitting position and rocks himself back up to standing while laughing. When they tickle him a second time, he repeats the pattern even more, then sits down again and falls backwards onto his back and starts kicking his feet while laughing even harder. He then stands back up and asks to be tickled again. And on the third tickle he absolutely lets loose going through the first two patterns and then rolling over onto his tummy where he starts hitting the floor with his hand in gales of laughter, then rolling onto his back, standing up again, and ending with a deep sigh. Order Limit: Two per customer. [More...]
November 22, 2006 EST | Toys
With its sleek, laptop computer design, the Nitro Notebook, available in pink exclusively at Toys "R" Us, is the ultimate, hi-tech learning tool for today's budding readers. Featuring eight super categories to choose from, the Nitro Notebook reads stories aloud to teach phonics and improve English fluency. It also includes an endless selection of fun games and activities that help kids master reading and tackle math, logic, social studies and science. Developing readers learn at their own speed as Artificial Intelligence technology tracks their performance and adjusts the skill levels as needed. As an added bonus, there are even Spanish language activities. [More...]
November 08, 2006 EST | Toys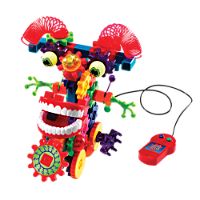 When we tested this construction learning kit, our pint-size volunteers spent hours honing their mechanical reasoning and creativity skills while building an endless series of crazy creatures. Using motorized gears, springs, flashing lights, glow-in-the-dark eyes, and chomping teeth, kids can construct any of four suggested Wigglers or stretch their imaginations inventing new ones. Includes hand control and 130 color-coded pieces. For ages 5 and up. Three AA batteries, not included.
Order Wacky Wigglers Mechanical Toy Set from National Geographic Store [More...]
September 30, 2006 EST | Toys

Dora's Talking Cash Register comes to life with shopping adventures and bilingual phrases. Little explorers learn the value of money and how to count while helping Dora shop by scanning barcodes that are on the included price tags or in the adventure book. When it's time to pay, kids can use Dora dollars, or swipe their Dora credit card. This toy cash register also includes a microphone, credit card signature tablet and three dress-up pieces that kids can wear.
Manufacturer's Age: 3 years and up
Our Recommended Age: 3 - 6 years [More...]
September 30, 2006 EST | Toys
This toy features everything a builder in training needs, including a circular saw with sparkling effects, a real working drill press, working vise, pretend cell phone, hammer, screw driver, saw, wrench, nuts, bolts and screws. The Black and Decker Junior Power Tools Workshop also comes with a play birdhouse that the child can build with the tools included. 4 AA batteries required (not included). Ages 3 and up.
Manufacturer's Age: 3 years and up [More...]
September 30, 2006 EST | Toys
Stepping out of the animated film "Barbie in The 12 Dancing Princesses," Let's Dance! Barbie doll brings the beautiful choreography from the movie to life. Standing at 15-inches-tall, Barbie dances with girls in three different ways: by following dance moves, teaching a new move or dancing to music while the girl watches. The doll includes two interactive wristbands and one shoe clip that can be used to get Barbie moving. She even comes with a beautiful gown and a removable base.
Manufacturer's Age: 3 years and up
Our Recommended Age: 3 - 6 years [More...]
September 30, 2006 EST | Toys
The "Let's Play Together Peek 'N Play Discovery Dome from Playskool" is no longer available. You might be interested in checking out other baby play domes below
The colorful, fabric Peek 'N Play Discovery Dome offers more than 15 activities that encourage development and is designed to invite you and your baby to play, learn and grow together. There are smiling critters, inviting textures, mesmerizing colors and activities to explore and discover at every stage of your baby's development. Play "peek-a-boo" behind the curtain and teach concepts like object permanence. A special squeaker phone is great for pretend conversations. A shape-sorting mailbox introduces shapes and colors and ball-drop chute helps child develop hand-eye coordination. Baby can bat and kick at the cute hanging toys. There's also a built-in animal picture book and special Let's Play Together tip card with fun ideas for you and your baby to play together!
Recommended Age: 3 - 24 months
[More...]
September 30, 2006 EST | Toys
Interactive play is a great way for babies to experience the world, and the Laugh & Learn line helps them do just that! The cute, plush Learning Bunny, new from the Laugh & Learn line, teaches counting from 1 to 10, sizes, textures, opposites and colors through three modes of play. In the learning mode, baby can press the bunny's hand to hear a song about numbers or press its belly to hear phrases about size. In the music mode, the child can press the bunny's hand to hear a song about actions and movement or press its tummy to hear instrumental tunes. In playtime mode, baby hears a variety of sound effects, giggles and additional songs.
Recommended Age: 6 months - 3 years [More...]
September 30, 2006 EST | Toys
The Laugh & Learn toy line teaches babies through fun, interactive play. Baby's very own grand piano, a new addition to the Laugh & Learn line, teaches numbers, colors and opposites while offering first exposure to musical concepts, such as tempo, pitch and style. With eight light-up keys, four activities with musical ditties and four songs led by the dancing character and his magic music book, babies are encouraged to play and learn.
Recommended Age: 9 months - 3 years
More baby gift ideas [More...]
September 30, 2006 EST | Toys
This fun and colorful zebra really gets baby moving when baby bounces up and down and spins round and round! The Baby Gymnastics Bounce & Spin Zebra encourages physical development through bouncing, spinning and having a ball. This lively zebra's fun sounds, delightful songs and dancing lights reward a child's movement while enhancing hand-eye coordination, motor skills and balance. 2 fun finger characters on tall springs located on the handlebar provide lots of visual and tactile fun. A great clear roller ball filled with multicolored beads has lights that dance up through it and will activate the songs if baby just wants to sit and play.
Recommended Age: 12 months - 3 years
September 30, 2006 EST | Toys
The V.Smile Baby Infant Development System provides a fun and enriching way for parents to connect with their baby through an interactive approach to learning about colors, shapes, animals, sign language and more! A colorful activity panel fits comfortably in the child's lap and connects wirelessly to a receiver that hooks right into a television. The system works with Baby Smartridges that slide easily into the receiver. Each Baby Smartridge includes three "grow with me" play modes that correspond with a baby's natural progression from infant to toddler!
Recommended Age: 9 months - 3 years
September 30, 2006 EST | Toys
Next stop Smartville! With the Smartville Alphabet Train Station, toddlers are whisked from whistle stop to whistle stop while learning letters, phonics, vocabulary, numbers, shapes, colors, animals, music and more! This play set fuels a child's imagination with interactive Smart Parts, including 28 brainy characters that talk and teach when they are placed in fun, hot spots throughout the station. A child can wind the hands of the station clock to learn the time, identify letters and sounds on the light-up display or move the train across the electronic track to hear the alphabet.
Manufacturer's Age: 12 months and up
Our Recommended Age: 12 months - 6 years [More...]
September 30, 2006 EST | Toys
Toddlers can't beat the learning fun of the Learn & Groove Alphabet Drum, which introduces the alphabet, encourages physical movement, vocalization and musical exploration in both English and Spanish. With three engaging learning modes, each tap of the drum rewards the child with lights, letters and music. In alphabet mode, the letters light up as children tap the drum from A to Z, and encourages them to crawl after the drum with its lively and unique roll-along song. 3 "AA" batteries required (included). Ages 6 to 36 months.
June 05, 2006 EST | Toys
The "Gorilla Playsets Blue Ridge Retreat Wooden Gym Play Center & Swing Set" is no longer available. Please check out other Gorilla Playsets Blue Ridge products below
It can be a pirate ship one day and an enchanted castle the next — Gorilla Playsets' Blue Ridge Retreat is a haven for any child's imagination. This play structure has solid 4" x 4" framing, with quality hardware and accessories to ensure years of safe play. Features 13 energetic activities.
Key Benefits:
Kids benefit from frequent physical activity and exercise


You benefit from knowing they're secure in your own back yard


Features 13 energetic activities
[
More...
]
April 12, 2006 EST | Toys
If you are looking for a "baby wooden play gym", please check out Wooden Non-toxic Baby Gym with Caterpillar and Flowers By Heimess
The "Odyssey Wooden Gym play center & swing set" is no longer available. You might be interested in checking out other play gym sets I picked below
One of our most complete backyard playsets, the Odyssey offers everything you'd expect from a school playground, in the safety of your own back yard. Features include swings, ladders, a large covered "fort" five feet above ground, a climbing wall, a glider and, of course, a spiral slide. And because it's all constructed of premium playground lumber held together with strong metal dowels, it'll last through years of vigorous enjoyment.
[More...]
April 12, 2006 EST | Toys
The "Six Flags Banzai Falls Mega Racer" is no longer available. You might be interested in checking out other Banzai Water Slides below
Like having your own private waterpark, the Six Flags Banzai Falls Mega Racer features a huge, 22' long dual-lane waterslide which you and another can race down to see who hits the the splash pool first! Then climb up the wall, and go at it again — the included heavy-duty 13" blower motor provides constant air support for endless sliding action and makes the slide resistant to small tears and punctures.
Features:
Slide inflates in less than 3 minutes and the blower is safe to use while water is running!


Connect any hose to the water tunnel to make a big splash, or use it dry for fun on colder days


Dura-Tech construction for lasting durability


Water-filled anchor bags for slide stability


Included blower motor features a 24' (732cm) long power cord and GFCI switch for maximum safety


Includes a 13" blower motor, a nylon carrying case, water-filled anchor bags, a detachable water-spraying hose attachment, blower motor stakes and ground stakes
[
More...
]
April 12, 2006 EST | Toys
Sorry, the "Little Tikes Ultimate Obstacle Course Bouncer" is no longer available. Please check out other inflatable bouncers below
Ready, set ... go! Dive through one of the two big tunnels. Climb over the wall, crawl under the bars, then slide down the two wavy slides. Time! Enjoy hours of recreational fun or challenge your friends in a competition to deteremine who'll be king of the Ultimate Obstacle Course Bouncer.
Features:


Four different challenging skill activities


Included stakes anchor the bouncer firmly in place


A heavy duty blower delivers continuous airflow


Build of puncture resistant material with durable mesh netting


Includes: stakes, heavy duty blower, repair kit and storage bag
[
More...
]
March 26, 2006 EST | Toys
Inside each plush figure, a microchip plays the authentic sound of its species as recorded by the Cornell Lab of Ornithology. Fun for children and adults alike; everyone can learn the sounds and then use their ears to find these birds in their own backyard. For ages 4 and up. 4''H x 6''L. Order this songbirds choir set today! [More...]
March 01, 2006 EST | Toys
Nurture and challenge baby's evolving skills with this interactive toy.
Toy changes shape and evolves to meet baby's developmental needs


Stage 1 (4 – 8 months): Stimulates baby's motor skills; wobbles, plays music and flashes lights when baby bats


Stage 2 (9 – 11 months): Refines baby's motor skills; more switches and knobs become active, encouraging development of "pincher-grasp" (thumb & finger)


Stage 3 (12 – 17 months): Tower pops up to reveal 5 new switches and toggles; leads baby through Find the Color game


Stage 4 (18 – 36 months): Shapes release from tower for sorting activity; Shape Sorter game becomes active; new light shows and sounds effects become active


Baby-friendly knobs and switches


Wobbly base encourages early batting


Separate pods for pushing, pulling, twisting, flipping, sliding and pressing


Free play with 21 knobs, switches, toggles and buttons


Games include Play with the Pod, Find the Color and Shape Sorting


Tower pops up to reveal new activities


Adjustable volume


Built-in clock automatically adjusts activities to baby's development level
[
More...
]
February 16, 2006 EST | Gifts
It is always difficult to come up with ideas regarding what to get when you need to buy baby gift items. Baby gifts are as much for the mother as for the baby since there are many items that a mother could use but cannot necessarily afford to buy. So, the next time a baby shower, a birthday party or a christening has to be attended, use the following list of ten ideas to buy baby gift items that will make an impression: [More...]
February 16, 2006 EST | Family Matters
Lists of baby names are always fun to look at, whether you're seeking a name for your soon-to-be-born baby boy or baby girl, wondering about the popularity of your own first name, or just curious about what baby names are currently hot.
What I find particularly interesting is tracking the popularity of baby names over the decades. In looking through U.S. government baby name lists from 1880 to the present, some amusing patterns emerge, particularly in regards to baby names for girls.
For example, in Victorian times Biblical names, such as Mary, Sarah and Ruth were very popular for baby girls. There were also many baby names that sounded very old-fashioned to me, as a kid growing up in the 1960s, including names like Martha, Alice, Bertha and Minnie. [More...]
February 03, 2006 EST | Safety & Recalls | Comments (0)
The question of whether you need a toddler bed rail, depends largely on how active your little one is. But the question of when to use the bedrail, is a decision for Mom and Dad, and one that should not be taken until the child is at least two years old.
Some children are more precocious than others, and even with their crib mattress in the lowest position, they can be scaling the heights and heading over the rails before you know it. Most toddler beds are not designed to use rails with. Generally, they are low enough that falling out of bed is not a serious issue. And at this age, a toddler who wants out of the bed, is going to get out, regardless of what measures you take. [More...]